intolight [DE]

intolight is a creative agency with a distinct technical background. They realize interactive exhibits for trade fairs, museums, events, combining hardware from a modular catalogue of technical components with custom-tailored software solutions. They believe that facts and ideas are easier to realize and remember if one can visually dive into them and play around with them. Thus, they make messages come alive in interactive audio-visual installations and applications. With a highly qualified network of suppliers and professionals they provide a full service including programming, 3D content, interface and interaction design and a reliable project management - everything from one source.
http://blog.intolight.de/
schnellebuntebilder
schnellebuntebilder is Sebastian Huber, Robert Pohle and Johannes Timpernagel.
@Vimeo
Jacob Korn [DE]
Dresden resident J. Korn is a professional creative on the edge of audio, visual, dance and programming. In 2007 he took part in the Red Bull Music Academy in Toronto, what let his carreer flash. Musically he comes from combined Hip Hop and Techno with elements of Jazz and weird electronics, formerly released under the moniker Granufunk. Nowadays he is focussing under his civil name on classic but versatile Techno and House.
He released on record labels like Running Back, Dolly, Permanent Vacation and played live or deejayed in Spain (Sonár Festival-Barcelona), Netherland (Picnic at Night-Amsterdam), Sweden, Norway, Denmark, Switzerland (Formbar-Bern), Austria, Czech Republic (Meat Factory-Praha) and, of course, Germany (Cookies-Berlin).
http://jacobkorn.de/
During CYNETART festival 2010 intolight and Jacob Korn presented the interactive music installation »UNCANNY HEROES«
↲
.
Cuthead
Cuthead is the Hip Hop-cat of the Uncanny Valley artists. His crew Kunst:stoff Breakz, renown in Dresden for wild parties at changing locations and altercations with local authorities, had initially strictly been a Hip Hop posse until one day all rappers were locked away and the word breakz in their name finally gained significance.
The move away from HipHop was reflected in his development as a producer and MPC-wizard not only after taking part in the Red Bull Academy in Barcelona in 2008. His special recipe of combining "dirty samples and a good groove" has changed in that respect, that his beats have become straighter and his sounds more electronic. Nevertheless, he is not restricting himself to a single genre but producing what he can get his hands on such as Wonky, Dub, Dubstep, Techno, House and IDM/ Electronica – all of which can be heard on his brilliant download-only albums 'Murdoc' and 'City Slicker'.
www.uncannyvalley.de
Galina Hardgrove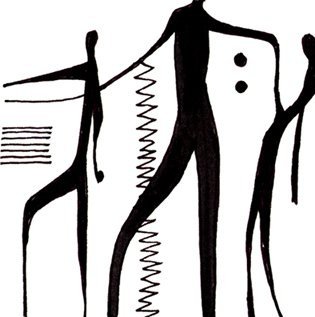 Behind the moniker Galina Hardgrove you can find Natalja Pomozova, originally grown up in Riga, Latvia. At the age of seven years, she moved to Germany. She was trained in Dresden and has been living in Berlin for five years now, »finetuning« her styles at some visual arts school and on the urban spots. She has played records at Altes Wettbüro Dresden (+/Spunky, HGN), Piatto Forte Berlin, Lingnerschloss Dresden (+/ds-x.org), Wendel Berlin (+/t.n.t.), Puschkin Dresden (+/Juno6, Alec Troniq), L'houp Dresden, Audioasyl Radio Zürich, The Night of Amateurs Prague (+/Dj Tiny), KILI club Berlin ( +/Elbee Bad) a.o.
Galina Hardgrove's styles, wide and openminded, come to dancefloor and guarantee for the right moods, moves, tempi and records in the fields of enlightening House Music, soulful Techno, retro chic and experimental Disco, wishing to enchant a delightful atmosphere. From hypnotic to monotone - she enjoys to play an intense mixture between soulful, grooving deepness, hard edged, old school & forward thinking spacey characters in electronic music and other genres.
Links:
@Soundcloud
|
@Facebook
Tags: 2011, artists, CYNETart, ecas, intolight, jacobkorn, uncannyvalley