MotionComposer Workshop
Inclusive Motion Tracking Workshop for people with and without disabilities
DANCE+COMPUTER=MUSIC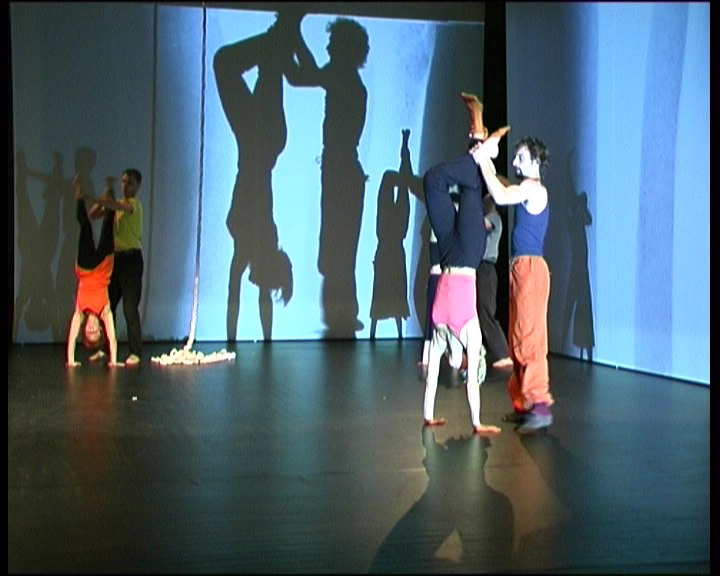 Leaders:
Robert Wechsler (Dancer and Interactive Artist)
Josepha Dietz (Media Teacher)
Hartmut Dorschner (Musician)
Marc Sauter (Composer, Interactive Artist)
Partners:
Team MotionComposer at Bauhaus University Weimar (
www.motioncomposer.com
)
School at Burkersdorfer Weg
Diakonische Werk – Stadtmission Dresden e.V.
This project is supported through Saxony Institute for Private Radio and New Media.
www.motioncomposer.com
The idea is simple: If you can move, you can dance and make music. These are fundamental human needs and pleasures and they do not depend on how MUCH a person can move or with which body parts! Using motion tracking technology it is possible to generate sounds, music, poetry, etc. with any part of the body. The smallest eye movements are enough.
This interdisciplinary workshop teaches the basics of motion tracking -- building interactive environments that respond to movement, in fact, they turn movement into music! After a body warm-up, and learning the basics of motion tracking, we will divide into teams of 3-5 people -- each with persons with and without disability. Each team will have their own motion tracking technology and a technical/artistic advisor. In this way, helping one another, each group will create an expressive movement-into-sound experience. The results and the implications of our work for therapy and pedagogy will be discussed in a forum setting at the conclusion of the workshop.
The Workshop is appropriate for students (ages 14-80) as well as dancers, musicians and therapists -- with and without disabilities. Experience with dance training is not necessary. Experience with computers is also not necessary.
Workshop Language
German and English.
Registration: Registration is open until September 30, 2011. To register, or for further information, please write to: dietz@t-m-a.de
Cost: Particpation is free-of -charge.
Workshop Dates: October 31 - November 4, 2011. 9 - 4 pm.
Location: Schule am Burkersdorfer Weg 20-22, Dresden, Germany.
Lecture Demonstration: October 4. 2011, 5 - 7 p.m.
at Ambulanten BehindertenZentrum, Hauptstr. 23, Dresden (Dreikönigskirche).
Final Presentation: November 19th, 3 p.m.
Part of the CYNETART, Festspielhaus Hellerau, Dresden.
Tags: 2011, CYNETart, CYNETART2011, Workshop