European Cities of Advanced Sound (ECAS)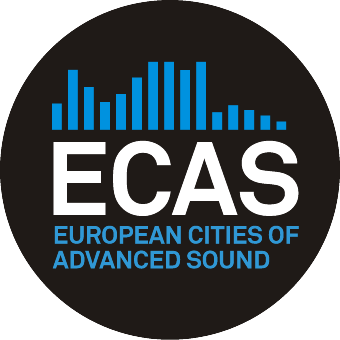 Links
ECAS Homepage
ECAS at Facebook
ICAS at Facebook
CYNETART ECAS channel at ARTE creative
http://icasnetwork.org
a European festivals network
The network supports cultural connections between
european festivals
dedicated to advancing sound cultures, music and related arts. The international equivalent is called ICAS. The
CYNETART
media art festival in Dresden brings a long time of experiences with audiovisual event series »
microscope session
«, the event and art group »
ds-x.org
« and the interactive dancefloor project, formerly known as »Automatique Clubbing« into the network.
Networking Tomorrows Art for an Unknown Future
The purpose of the Network ECAS and his international equivalent, ICAS, is to feature known and unknown projects in an intercultural exchange from country to country and even continent to continent. The Dresden based agency intolight, which is already strongly part of the development of interactive dancefloors, together with the CYNETART festival and his association, the Trans-Media-Academy, could already present the special Tool
CHET
at the Clubtransmediale (CTM'11) and at the FutureEverything Festival in Manchester. CHET stands for Collective Hedonistic Environments Toolkit. In Manchester intolight even won the ECAS Award. Please see »
Switchboy
« for more info on that. supported by the European Union within the Culture Programme (2007-2013). ECAS has now grown to encompass Europe, North America, South America and Australia, resulting in the creation of a global network, ICAS (International Cities of Advanced Sound).
FUTURE
Other realisations in cooperation
follow this autumn at the norwegian Insomnia festival in Tromsø as well as in November at
CYNETART 2011
in Dresden. Im december 2011 CYNETART will create an active programme at the SOCO festivals in Montevideo South America and at MUTEK.CL in Santiago de Chile. CYNETART will also be part of the upcoming MUTEK Festival in Montreal.
Tags: 2011, 2012, collaboration, CYNETart, ecas, international