RML CINECHAMBER presenting new works at CYNETART 2011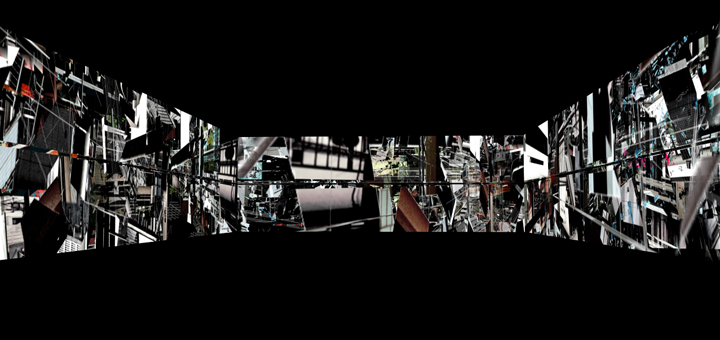 depicting the module by Masako Tanaka
25. and 26. november 2011
CYNETART Festival, Festspielhaus Hellerau, Dresden
CYNETART presents Recombinant Media Labs with their CineChamber. It's a large, immersive and at the same time intimate and closed space, which functions as mobile environment and incubator for inter- and multimedial works. They can be stated as overwhelming synaesthetics and mediagenic performance surroundings as well as programmed exhibition projections and realtime installations which interact with live music.
8 x 12 meter large, surrounded by walls consisting of ten jumbo screens the space also is connected to a 8.8.2 multi channel sound system. The whole CineChamber can be played as a kind of audiovisual instrument.
At CYNETART 2011 new compositions and live performances are presented.
Thery are performed live by Andrey Kiritchenko (UA) & v4w.enko (Eugen Vashchenko) (UA), Ulf Langheinrich & DS-X.org (GH/AT/DE). Also modules by SIGNAL (Carsten Nicolai, Frank Bretschneider, Olaf Bender) (DE), Robert Henke & Tarik Barri (DE/NL) and by Edwin van der Heide (NL) are shown. Those works were developed in the network CTM, TodaysArt Festival, ORF-Musikprotokoll, Cimatics and CYNETART during ECAS-Network "Festival as Lab".
TICKETS:
!!!: Please order your entry tickets for those chamber plays at 25. & 26. of november before. The seats are quite limited. There are five different events in the RML CINECHAMBER, two of them with live acting. ticket infos here: Ticketinfos hier:
http://t-m-a.de/cynetart/tickets2011?lang=en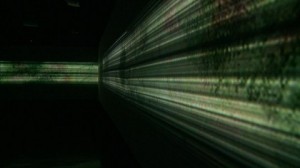 depicting the module by Ryoichi Kurokawa
Friday, 25.11. 2011
21 o'clock
CineChamber – module block 1
– 62 min
NAUT HUMON "Xynaxus" – by Xenakis Persepolis Remix Project
BIOSPHERE & EGBERT MITTELSTÄDT "Elsewhere Anywhere / People are Friends"
BIOSPHERE & EGBERT MITTELSTÄDT "Path Leading to the High Grass"
BIOSPHERE & EGBERT MITTELSTÄDT "Genkai"
RYOICHI KUROKAWA "cm: av_c" – Surround cinema version
SEMICONDUCTOR "Brilliant Noise"
MASAKO TANAKA & MARKUS POPP "Halveplane ver 4.0" & "Flam ver 4.1"
RYOICHI KUROKAWA "Parallel Head"
22 o'clock
CineChamber – Live-Modul A
– 40 min
"FluxTank" mit Andrey Kiritchenko, v4w.enko (Eugen Vashchenko) (Live in der CineChamber)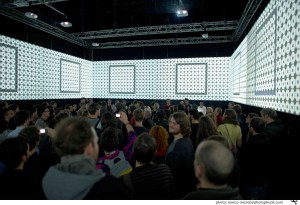 SIGNAL "signal. combi vision". photografer: Marco Microbi
23 o'clock
CineChamber – module block 2
– 60 min
EDWIN VAN DER HEIDE "DSLE-1-"
EGBERT MITTELSTÄDT "Kutuzovskiy prospekt"
FENNESZ & LILLEVAN "Saffron Revolution Forever"
HERMAN KOLGEN "Altered Splices"
JOCHEM PAAP & SCOTT PAGANO "Umfeld"
SCOTT ARFORD "Static Room"
DANIEL MENCHE "Paroxysm"
23.59 Uhr
CineChamber – live module B
– 120 min
"Status" with Ulf Langheinrich & DS-X.org (Live in the CineChamber)
Saturday, 26.11.2011
21 Uhr
CineChamber – module block 3 – 66 min
SIGNAL "signal. combi vision"
RYOICHI KUROKAWA "[Orbit]" – preview for the installation
EGBERT MITTELSTÄDT "Elsewhere 2"
BIOSPHERE & EGBERT MITTELSTÄDT "Birds Fly"
FUNDAMENTAL FORCES (Robert Henke / Tarik Barri) "Version FF 00"
Tags: 2011, av, Cinechamber, cinema, CYNETart, CYNETART2011, ecas, hellerau, Performance