encounterBLOG 22 November, Thursday
dissolution in the atmospheric noise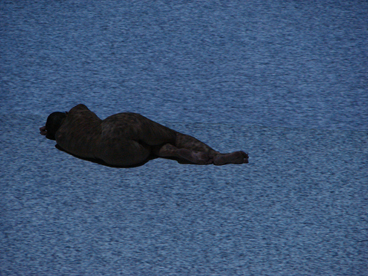 there was much discussion, many different viewpoints that were exchange, after the premiere of Movement A, and might come back to some of the issues mentioned in the debates.
but we also need to look ahead, the Australian company, Chunky Move, has arrived, their luggage however was lost, and so we hope that they will have costumes to wear and a floor to perform on, as the items are somewhere in some airport yet. the performances of Glow are on Friday night, at 8 pm and 9:30 pm.
already, Glow has caused a bit of a stir, as the publicity announcement of the performance angered a choreographer who has worked in interactive dance for some years. here is what the announcement said:
>»Glow« is an illuminating choreographic essay by Artistic Director Gideon Obarzanek and interactive software creator Frieder Weiss. Beneath the glow of a sophisticated video tracking system, a lone organic being mutates in and out of human form into unfamiliar, sensual and grotesque creature states. Utilising the latest in interactive video technologies a digital landscape is generated in real time in response to the dancer's movement.>
In the "newletter," the german version continues:
> In den meisten konventionellen Arbeiten mit Lichtprojektion mĂĽssen
> die Positionen und Bewegungsabfolgen des Tänzers gänzlich auf den
> Raum und die Zeitstruktur des Video-Playbacks festgelegt werden.
> Die Rolle des Tänzers wird auf die schwierige Aufgabe reduziert,
> jede Performance zu einer möglichst exakten Kopie des Originals zu
> machen. Bei Glow erfasst die Maschine den Performer und reagiert
> auf dessen Handlungen. Damit löst sie ihn heraus aus Restriktion
> und Eintönigkeit.
> Newsletter der Trans-Media-Akademie Hellerau e.V., vom 22.11.07
in translation, this passage reads:
in most conventionen works using light/video projections, the positins and movement sequences of the dancer need to be cued precisely to the space and temporal structure of the video playback. The role of the dancer is reduced to the difficult task of making each performance an exact copy of the original. In Glow the machine vision of the software observes and analyses the performer and reacts to her movement. it thus releases the dancer from restrictiveness and monotony.
it is interesting that the reference to "reduction" or restriction is taken literally here, and that it caused offense. and of course i do remember that Wednesday night, after Movement A, it was precisely the role of the dancer, her presence, her "choreography" (improvisation — Toshiko Oiwa argued that the entire performance was improvised, while it seemed apparent that she followeed a very clear struture, sequencing and dramaturgy that is necessarily repeatable and must be repeated if the conceptual, theatrical dramaturgy of the whole is to be saved), which caused confusion, as the designer argued he needed her to stop moving after 40 minutes, but he needed her to remain there……
there are many interesting questions here. why would a dancer be needed to be in an audio-visual composition? and if the dancer is a part of the composition, what is the difference between choreography and improvisation, if indeed the structural development of the work is such that the performance is not interactive, but dance and music/lights are independent from each other. they stand side by side. they followed the ancient Cunningham-Cage model.
in the case of Glow, and other contemporary interactive performance and interactive installation, the active presence of the player/performer is needed, but again we don't think of choreography here (in the Tele-Plateaus — the interactor is not following a score or a choreography but reacts to presences and occurrences in space-time, in the virtual environment — what kind of movement is this, what can it be called? is it restrictive, reductive?). how restrictive is the performance when the performer needs to make sure it is "followed" by motion tracking and analysed, and each time a new original is created, without copy?
johannes birringer
Tags: 2007, CYNETart, cynetart2007, encounterBLOG, review, ulflangheinrich