WOPPOW
WOPPOW.NET
UBERMORGEN.COM, 2009-10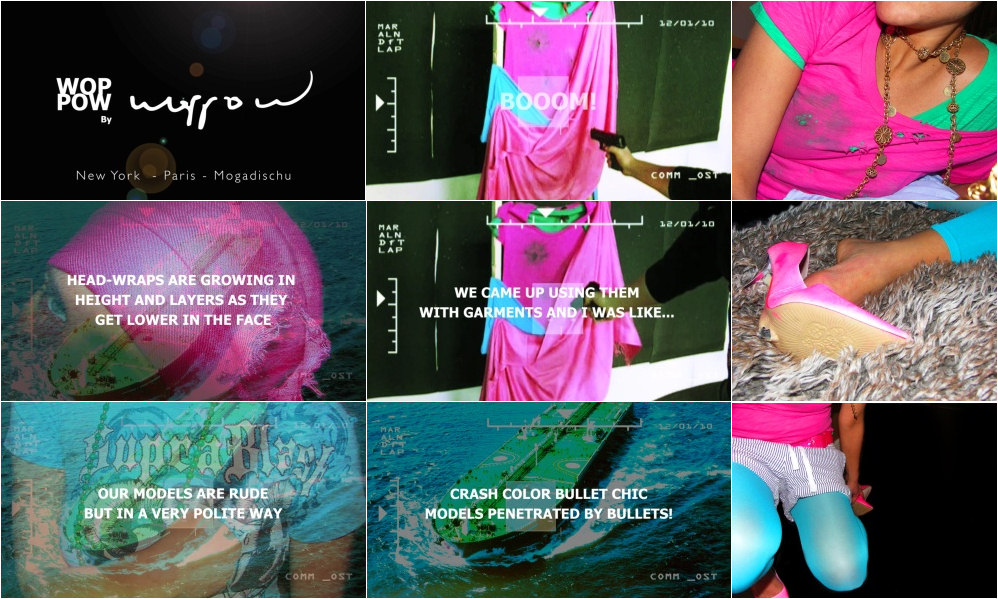 WOPPOW is based on our research on the tribal and fashion aspects of Somali Pirates and Digital Pirate Crews.
Initial Position: With more than 90 pirate attacks within 12 months – like the capture of Sirius Star (2008-2009), hundreds of miles out in the Indian Ocean – there are few secrets left. The raiders operate from "mother ships", often Russian-built trawlers, from which a series of high-powered motorboats are launched at their victim. Within minutes the target ship is surrounded by a dozen gang members firing AK-47s into the air and threatening to shoot rocket-propelled grenades at the unarmed merchantmen. A few seconds later the pirates clamber aboard with the aid of grappling irons and rope ladders and take control of the ship. The secret of a successful attack is the speed with which it is carried out, a team of pirates can identify, surround, board and take control of a ship in less than 15 minutes.
Video/Web: The French fashion designer "woppow" travels to his homeland Kenya (Mombasa) and to Somalia (Puntland) to gather some inspiration for his next haute couture collection. Influenced by the media presence of Somali Pirates he starts to collect images of the country and its people, creates moodboards and decides to shoot clothes with guns in a highly creative way:
STATEMENT
OUR MODELS ARE RUDE
BUT IN A VERY POLITE WAY
IT'S LIKE SHOOTING WEAPONS IN A CREATIVE WAY
WE CAME UP USING THEM WITH GARMENTS
I WAS LIKE… BOOOM!
THIS WAS SUCH A MOMENT..
LIKE IT'S A MAJOR BREAKTHROUGH IN FASHION
WE WANT TO USE THE BULLET FOR CHARITY
WE ARE SO INSPIRED BY THE VIOLENCE OF THIS WORLD,
WE GOT REALLY INTERESTED IN POLITICAL STATEMENTS
BEING POLITICAL IS SUCH A HUGE TREND
CRASH COLOR BULLET CHIC
MODELS PENETRATED BY BULLETS!
---
exhibition @ CYNETART 2010:
' ! ' ↲ | Transducers ↲ | Post Mortem ↲ | MoshPit Amp ↲ | [oszo 34]TM ↲ | WOPPOW ↲ | LAG ↲ | Default to Public ↲ | Mirror ↲ | ArtZeppelin ↲ | Radical ATM Service ↲ | FrĂĽhstĂĽck ↲
Tags: 2010, exhibition, Werke2010