The so called digital culture is a musical culture, Monolake Live Surround, Paul St. Hilaire with Scion, Elbee Bad and Jacob Korn will be among the performers. There will also be video-presentations and performance-installations by Humatic, intoLight, Vera Glahn & Marcus Wendt as well as Jannis Urle Kilian Kreft within Automatic Clubbing. This makes CYNETART a platform for dynamic media art in the style of traditional club events, inviting the audience to experience and experiment the interactive, audio-visual environments.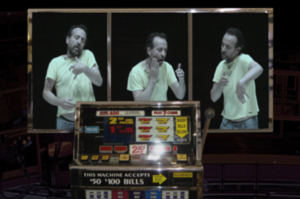 Christian Graupner, Humatic (concept, video)
Roberto ZappalĂ  (choreography, performance)
Norbert Schnell, IRCAM (interactive music and sound design)
Nils Peters, Humatic (software-art)
Dates
Thu, Nov 26th 08:00 PM to 11:00 PM
Fri, Nov 27th 08:00 PM to 11:00 PM
Sat, Nov 28th 08:00 PM to 11:00 PM
Participants:
Maria Inguscio, Compagnia ZappalĂ  Danza (management)
Gwendaline Bachini ( script, assistance in 2007)
Dirk Behrend, Mad Eye Studio (interface, grafik-design)
Gobi Hofmann & Jochen Liedke (stabil-berlin.de, metalwork& mechanics)
Christian GĂĽnther (electro mechanics)
Jo Frgmnt Grys ( display, control)
Michael Leyton (assistant sound software developer)
Nico Aimar (additional sound design, assistant HUMAoperator)
Jochen Buschardt (team assistance)
Credits
:
Thanks to BreitbildbrĂĽder GmbH, Vasna Nagy, Simon Harris & Hannes Heiner.
Very special thanks Bernhard Eber, Fa.Bally Wulff.
Thanks to the Real-Time Musical Interactions Group at IRCAM Centre Pompidou, Paris for fruitful collaboration.
Produced by Humatic Berlin in co-operation with TMA Hellerau and Compagnia ZappalĂ  Danza.

With the audio visual triptych MindBox a group of developers, scientists and artists propose an interactive system of marginal stability which in its form follows the paradigm of a slot machine. Cross connections between gambling, contemporary choreography and consonant 'beatboxing' become physically tangible. MindBox is a triple channel 'media catapult' that can be touched and felt.The arm and buttons of a the modified gambling machine provide 'body-contact' with the choreographer Roberto ZappalĂ . Vocal sound- and movement clusters which have been generated originally in improvisation can be manipulated and 're-composed'.

Jannis Urle Kilian Kreft
Dates
Thu, Nov 26th 08:00 PM to 11:00 PM
Fri, Nov 27th 08:00 PM to 11:00 PM
Sat, Nov 28th 08:00 PM to 11:00 PM
Zen Station is a computer game for two players controlled by so-called "bio-feedback". It allows new forms of communication between humans and machine to be experienced.
The playing surface is projected by video projector onto a rectangular box, which contains an oximeter and a heart rate monitor. The heart rate and oxygen saturation of the blood can be analysed in real time for both players by means of sensor technology. Virtual forms of life are thus generated based on the touching of the sensor area. Their shape and size will be dependent on the heart rate of the respective player. The goal of the game is to defeat the opponent by remaining calm and composed. The player with the lower heart rate in the long run will win.

Elbee Bad (performer)
Christian Graupner (concept, video)
Moritz Mattern (video, 3d)
co-initiator Joulia Strauss
Dates
Thu, Nov 26th 08:00 PM to 11:00 PM
Fri, Nov 27th 08:00 PM to 11:00 PM
Sat, Nov 28th 08:00 PM to 11:00 PM
Participants:

Nico Aimar (sound assistance)
Cornelia M. Bauer (management)
Breitbildbrueder GmbH, (camera, technique support)
Björn Friese (BFFX fire operator)
Credits:
Melanie Bliss
Thomas Dumke
Christian Wilmes (Fumakilla)
In an improvised performance DJ Elbee Bad shares his ideas of a music video clip. Time- axis manipulations, screen & character multiplication and cinematographic design ad new form- and content defined levels to the protagonist's story telling. The multi-screen installation in its forward looking 48:9 format can be experienced in a selective & non-linear way.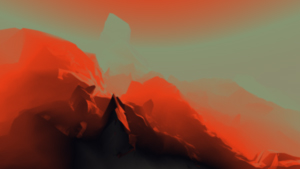 Vera-Maria Glahn (director, cutting)
Marcus Wendt (director, code, 3d-animation)
Dates
Thu, Nov 26th, 08:00 PM to 11:00 PM
Fri, Nov 27th, 08:00 PM to 11:00 PM
Sat, Nov 28th, 08:00 PM to 11:00 PM
Participants:
Arran Poole (music)
Credits:
'Artist-in-Residence-Stipendium der Kunstministerin, granted by the
Saxon State Ministry of Science and Art in co-operation with the City of Dresden, dept.
for culture and historic preservation within the international festival for computer based art CYNETart by Trans-Media-Akademie Hellerau.
Supported by:
Interim Camp has been sponsored by the Hessen Ministry of Science and Art.
After the preview at CYNETart 2008 Vera-Maria Glahn and Marcus Wendt will present the final version of the animation film Interim Camp: An expedition across abstract and unreal mountain landscapes made of ice and rock.
A poor view, weather still unsettled. Unreal rock formations and cliff-fringed plains, valleys covered in mist. Frightening depth and emptiness. The air is considerably thinner. What is it that you are looking for in this inhospitable area? Interim Camp is a meditation about the quest for a goal, about the obstacles, efforts and setbacks along the way.
As part of the Artist-in-Residence Stipendium Vera-Maria Glahn and Marcus Wendt engage in agent-based systems and generative animation. They will present sketches and first results of their work in the project room.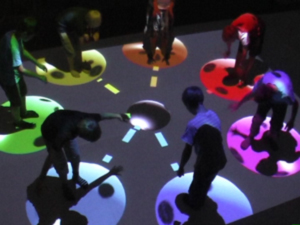 Jacob Korn
Dates
Thu, Nov 26th, 09:00 PM
Fri, Nov 27th, 08:00 PM
Participants:
Frieder WeiĂź (cameratracking)
Credits:
In co-operation with Fraunhofer Institute for Digital Media Technology IDMT in Ilmenau, Professor Karlheinz Brandenburg and Trans-Media-Akademie Hellerau.
A virtual musical instrument, which is played by a maximum of 7 people has been developed within the thesis "Concept design and development of a musical environment for multi-users" under supervision of Professor Karlheinz Brandenburg at the Frauenhofer Institute (IDMT) and in cooperation with the TMA Hellerau. The choice of the tones to be played is made by the positioning of the player in space. They are then triggered by movement of the bodies. Body positioning and activity are processed by a camera-motion-tracking-system called EyeCon. This takes place on seven squares, which each represent a tone on a scale. The user interface is projected onto the floor and provides all necessary information to the player. The border between musical instrument and play diffuse as there are multiple tasks that need to be performed in order to score points. Within the group you can for example replay short figures or play an accompaniment to a polyphonic piece of music. The player with the highest accuracy in hitting the tone wins the game.
This work was originally designed for children but has been modified slightly for the purpose of this presentation.
intoLight (digital experience design)
Johanna Roggan (performer)
Rebekka Böhme (performer)
Christiane Kupfer (video, graphics)
Franz Josef Schneider (music, sound)
Jacob Korn (software interface)
Dates
Thu, Nov 26th, 09:30 PM & 11:00 PM
Fri, Nov 27th, 08:00 PM & 09:30 PM & 11:00 PM
Sat, Nov 28th, 08:00 PM & 09:30 PM & 11:00 PM
IDOL TASK is a co-production of IntoLight and TMA Hellerau.
In an interactive performance visitors are invited to playfully deal with the subject of media-specific celebrities. They will be sharing a room with two female dancers, who can be identified as celebrities or pop-idols.
By means of various, touch-on interfaces the visitors determine the life and career choices of these idols. In the course of this activity they playfully act out various generic roles – boss of a label, journalist, dealer and pop consumer. Their interactions make them determine the outer conditions and inner circumstances of the idols.
At any given time they take a direct influence on the image and sound as well as the whole dramatic composition of the performance. Neither activity nor passivity will remain without an outcome. Visitors will assume an acting role and not be able to withdraw from responsibility.
Elbee Bad (live on decks)
Sean DC Marquardt (lead guitar)
Hectic (on decks)
Date
Fri, Nov 27th, 09:00 PM
Credits:
Cornelia M. Bauer (management)
The legendary New Yorker eLBee Bad the Prince of Dance invites you to journey through entertaining sounds of artistic electronica. eLBee BAD shares a heavy dose of Dance music and mysteriously out of limit sounds along the way. Accompanied by guitarist Sean DC Marquardt (Chicago), creator of the style: Accidental Guitar, & the talented Hectic (Montreal) cutting Electro House. A Live-/DJ-Performance, that leads the audience into a parallel universe where sounds and bass tones enter the mind & then rule over the body.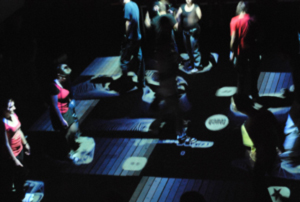 Jacob Korn (music, concept, software-engineering)
Matthias Härtig (visual design, software-engineering)
Kalypso (hypecycle.de) (tracking system )
Date
Fri, Nov 27, 12:00 PM
Jacob Korn is an artist in residence at the Trans-Media-Lab (TMA) in Hellerau, working on the connection of interactive participation offers in the context of electronic dance music. The search
for an ideal format of a virtual environment, which extends the classic dialogue between musician and audience at parties to a third dimension, is the key element in his approach to an audio-visual concert.
The movements on the dance-floor are recorded with the aid of a motion-sensing-system into the live-set. They are then embedded into the presentation of electronic dance music by means of attractive visual objects - almost in the form of a dialogue.
The music has a deeply technoid, melodious house-sound. Jacob Korn has already worked as remixer for Clueso (FOUR music) and has produced records for various international labels, icluding Running Back, Klakson and AstroLab.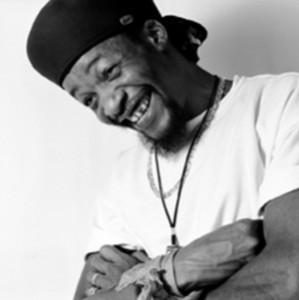 Paul St. Hilaire (musician)
René Löwe (DJ, composer)
Peter Kuschnereit (DJ, composer)
Date
Sat, Nov 28th, 09:00 PM
Paul St. Hilaire has been a thoroughbred musician since his early days. In 1999 he teamed up with Scion in the course of a live concert. Scion are René Löwe (Vainqueur) and Peter Kuschnereit (DJ Pete, Substance). During live-sessions Scion operate as sound engineers of Paul St. Hilaire. In an exemplary way they create sound spheres arranged in stereo with chords and grooves. This typical sound of Scion provides the base for the unique voice of the Roots-Reggae singer Paul St. Hilaire. The audience will embark onto an acoustic sound journey of a special kind.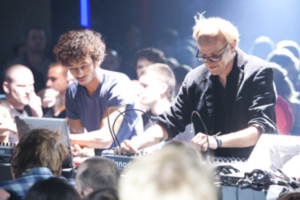 Robert Henke (sound)
Tarik Barri (video)
Date
Sat, Nov 28th, 11:00 PM
Credits:
Heike Fetzer (management)
Since the very beginning, the music of Robert Henke a.k.a Monolake has invariably featured a
highly cinematic quality and sonic depth. The space in between the beats has always been treated with the same care and attention to detail as the beat itself. In order to convey this exciting mixture between massive energy and crafted atmospheres even more convincingly in a performance situation, Monolake have recently pioneered in bringing surround sound to the club. A concept that only works within a real live performance. It shows that a club still holds surpises and new experiences for you. But Monolake live is not just an aural sensation, it also incorporates highly advanced visual elements. Utrecht based media artist Tarik Barri generates real time video graphics which are manipulated by the sound of the performance; constantly moving shapes in space. The result is an impressive combination of art and technology, an audiovisual journey thru previously unknown worlds and way beyond the classic DJ setting.