MNM v1.0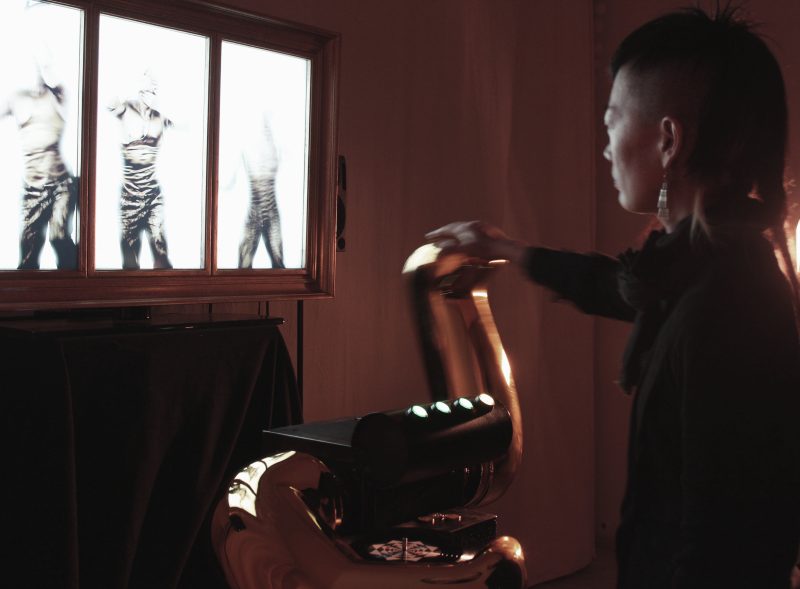 MNM portrays the Hiroshima born sound artist Mieko Suzuki and the singaporian dancer Ming Poon in their sound- and body performances and generates an ongoing media concert that creates always new video and sound clusters. The headstrong canonic composition out of vocal and percussion loops depicts the topic of total (body) control in golden times of casino-capitalism and its meltdown. The protagonists' performances are directly connected to the form and materiality of a triptych frame and a huge Maneki-Neko derivated figure which underlines the sculptural character of MNM. Visitors are invited to co-compose and influence the flow of the so called Humatic Re-Performance by feeding and operating the triple channel installation like a gambling-machine or to control MNM like a musical instrument.
Honorary mention at Cyberarts 2012 - International Compendium Prix Ars Electronica 2012
> for more news on the project see
mnm.humatic.net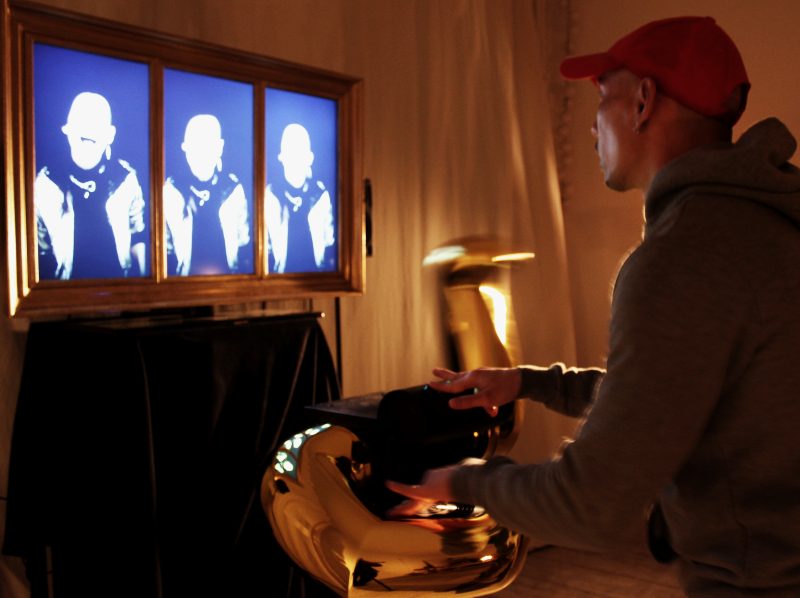 credits
»MNM v1.0« is a co-production of Humatic GmbH, Berlin with the ICAS-partners Nemo- Festival and CYNETART, partly supported by the European Union within the Culture Programme in context of the networking project European Cities of Advanced Sound (E.C.A.S.) and ARCADI (Établissement public de coopération culturelle, Île de France).
Christian Graupner
( Humatic) concept, video & music
Mieko Suzuki
sound artist & performer
Ming Poon
performer, dancer
Phuong Nguyen
co choreographer
João Pais
programmer/ developer
Nils Peters
Humatic, software artist.
Peter Knabl
form & mechanics
Jeff Mann
electronics & control systems
Alan Gleeson
sound collaborator
Norbert Schnell
, Real-Time Musical Interaction Team, IRCAM - Centre PompidouSound and interaction design components based on FTM & Co and MuBu software libraries
See full team list at >
mnm.humatic.net
>
TecRider
artist bio
Christian Graupner studied graphic arts, worked as visual artist (
www.voov.de/FinA
) and recording artist since 1980 in Berlin. ...released records and CDs (
www.voov.de
) worked as sound designer, music composer/producer for TV, movies, theatre and radio plays ...directed numberous music clips founded 'Club Automatique'. In 2000 he and Nils Peters formed the independent artist group and production company Humatic. (
www.humatic.de
) to create innovative media concepts, projects and software tools.
CG has been Guest lecturer at German & Suisse Universities and guest artist at ZKM, Center for Art& Media , Karlsruhe. His work has been shown and performed worldwide.