encounterBLOG 25 November, Sunday
this night/last night was the last night, full of sound and fury, as they say in Macbeth, great audio-visual environments and compositions, a visual-music marathon, Kirschner's Puppenspiel (live digital animation), live gamepad coding by Dave Griffiths, and live sound performances in the concluding "convextion" session.
convextion is a new word.
the collaboration on the live performance of convextion was created by E.R.P. (Matrix Records, Detroit) and DS-X.Org (Dresden).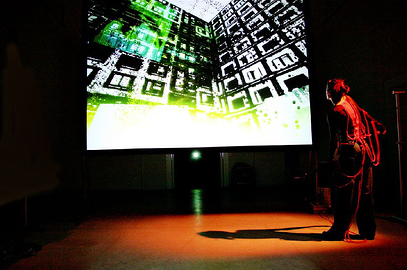 game environment and digital puppet walking through it
"Ein kleines Puppenspiel" (a little puppet play). (see video)
probably an intimate & exhilarating highlight of the weekend, carried out with humility and extreme beauty, this performance in the east studio featured a brief introduction by Friedrich Kirschner in which he playfully showed a few moments from a commercial game that he had loaded on his computer: "Unreal Tournament, 2004."
we watched as he maneuvered through the first level ("Death Match"), shooting everything on sight. truncated bodies and mangled parts were flying here and there. blood on the virtual floor. this ended the ego shooter demonstration.
then Kirschner announced that he will take us on a different journey into a mod, a modified game environment in which the creative user can generate her or his own environment, characters, and action. it will also be more friendly, he promised.
introducing his collaborators – Sebastian Zangar (from Düsseldorf) doing live sound synthesis on his Mac and Midi keyboard, Bianca Bodmer (Ludwigsburg Film School) on game cameras and editing, and Mika Satomi, Hannah Perner-Wilson and Ivana Kalc (all from Linz, Austria) on additional puppet / motion capture real time play — Kirschner opened up the "Movie Sandbox" machinima application he has written, and then stood at a small rack that had a few thin wires running down which he manipulated as one would a live puppet. The wires however sent data to his computer, and Kirschner manipulated a digital puppet figure inside a room — the puppet walks from the bed to the kitchen table to pick up a spoon — which later opened up to a vast urban landscape.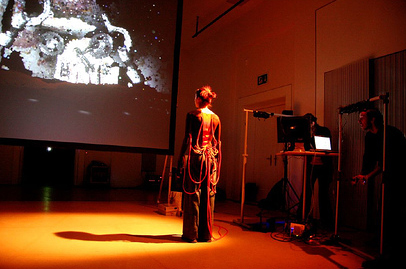 Ivana Kalc is live actor manipulating the digital puppet
in the urban landscape we see Ivana Kalc becoming the puppeteer (mover) of a puppet avatar that walks through the digital city, which we experience from many different angles. all the while, Zangar created the live sound track and the music for the puppet "game" — and there was a spell-bound silence in the room as we watched this simple and yet complex, beautiful scene: a strangely vulnerable, almost transparent puppet making its way from the privacy of the house into the streets of urban life, manipulated by real hands and the body of a dancer.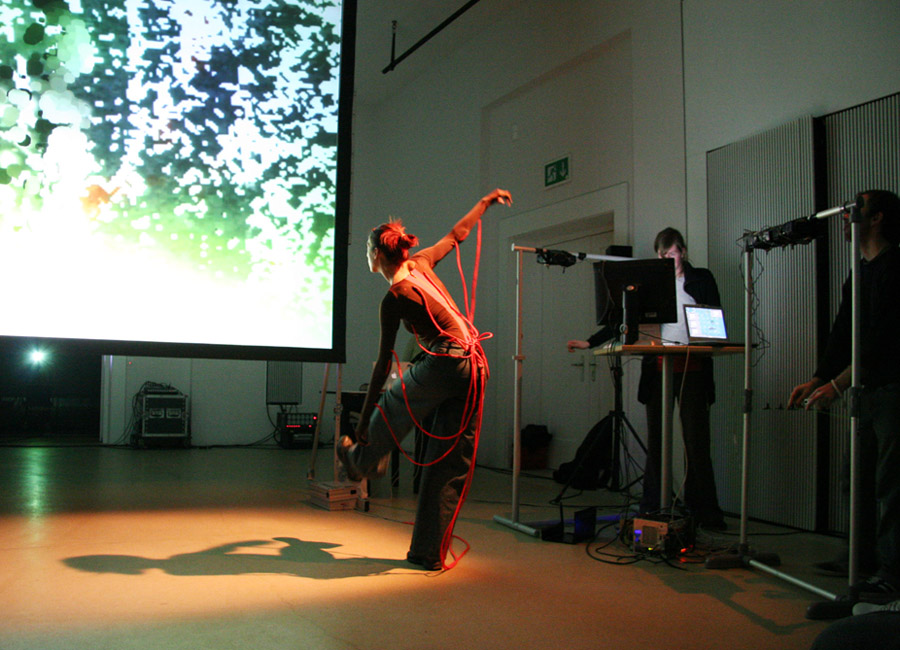 After the entr'acte, Kirschner briefly explained the easily affordable (inexpensive) "machinery" behind this live performance and asked audience members to test it, a few youngsters jumped forward to seize the occasion, and a second performance followed, showing how quickly and intuitively the game can be learnt. the kids were amazing.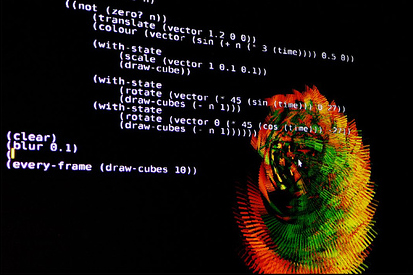 d.griffiths and his live coding display
the evening was a very satisfying conclusion to the festival, as it opened up the formal performance presentations we had seen during the week, creating a context for the widening culture of "algorithmic improvisation." english software artist Dave Griffiths was on hand to give a demonstration of "live coding," explaining that the philosophy he adhered to means showing how programming can be done in the open, and how laptop musicians or programmers can foster a new relationship with their audiences by showing the screens and enacting the coding on the spot, improvising with the audio-visual compositions they create in this way.
the concluding "convextion" brought a large crowd to sizzle in the Festspielhaus. a modest sizzling, enhanced by the fact that the infamous "Tele-Plateau" floor projection (with the interactive system in full swing) was on and now hundreds of dancers moved on the sensitive floor.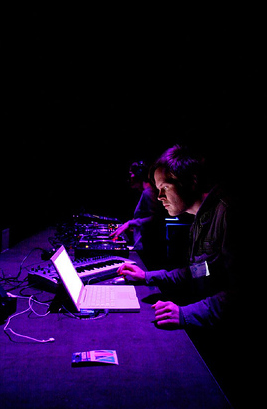 convextion is not a word, it refers to an artist (Gerard Hanson), a fellow Texan from Dallas (I live in Houston), who chose this as his avatar-name or romantic interface (the meaning of the word 'convection' is: the internal movement of currents within fluids or gases). E.R.P. stands for Event Related Potential, and now, as you can imagine, we have entered into the techno scence and DJing and the world of code names. the music convextion created was enjoyable, pounding rhythms accompanied by floating melodies that kept slowing down the pace a bit, rhythmically the session was underwhelming, it also lacked edginess, it felt to me as if we were listening to an upscale white beach party in Santa Monica, actually, there was no darkness and little danger seduction.
but Calpyso had been with us all week.
[my not so hot reaction to the sound has elicited some response from readers, and here is what Sven said:
Although the musicians and Djs weren't black guys at the
convextion-event, they played the techno-elektro-music of Detroit,
which can be stated as originally black dreams in electronic music.
Futuristic and melancholic… and thats the spirit, Dresden
holds for hundreds of years. Inventors and dark poets. Some
weeks ago, I read about Dresden in a 'Konversationslexikon'
for woman from 1865 or so, that it is only recommended to
visit Dresden in spring. :) Maybe that counts for most of the
western cities. Most of the well-known Detroit artists visited
Dresden already and during the 90ties, some meant that Dresden
holds the spirit of Detroit, which is known as a ghosttown,
left by many citizens and forgotten by the industry, so they
called Dresden the 'Detroit of Germany' :). The old-styled
Festspielhaus represented that spirit in some way, left by the
russian forces, but the new house doesnt and also can't satisfy.
But the setup at saturday was satisfying and somehow futuristic
and brought a kind of dreamy state. George Clinton would have
enjoyed this event a lot. Of course it is questionable, if it
isn't better to party in a small room with DJ Trax from Chicago,
who moves our bodys with the oldest Chicago-House-Vinyl, but for
this we do not have to go to Hellerau. Maybe the party lacked in
some love or fun or raving moments or good talks, but who else
expected things like this for that night. My only interest was,
if someone has already layed down on the teleplateau :),
as Toshiko did on wednesday, not dead or crucified, but travelling.
And indeed, i heard somebody did it. I didn't have so much courage,
but layed some minutes on the gallery, where Matthias 'played the
walls' and the sound was great.

there goes. i had no idea Dresden considered itself the Detroit of Germany, and the part about George Clinton, hmmm, i think i'd need to be persuaded a lot to take that. i lived in Chicago for some years, not Detroit, and here i probably miss the lessons in melancholia… i really enjoyed getting this feedback.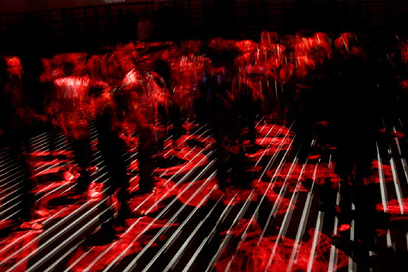 the space of the final microscope session? how to blog music, or write about people dancing to blizzards of sound and visual music of the kind that spins and spins and twirls as if a dozen Moholy-Nagys and Oskar Fischingers were working together with the latest supercollider software? this is more difficult than I had imagined.
not sure how the week went, blog wise. wish you were here to experience the festival. next year, some one else will take on this task, if at that point blogs are still used in the social networks of the virtual spheres.
johannes birringer
Tags: 2007, CYNETart, cynetart2007, dsx, encounterBLOG, microscope-session, review